Is your organization among the 60% of technology companies without any documented content marketing strategy? Last month, Content Marketing Institute published the latest edition of their B2B Technology Content Marketing study, 2016: Benchmarks, Budgets, and Trends – North America. According to the study, 95% of technology marketers reported they use content marketing, but only 36% have a documented strategy. Another 13% lack a strategy entirely. If you're in that majority, it's not too late to turn away from the dark side and define your marketing plan for the remainder of the year.
Creating a marketing plan from scratch can be difficult for companies across all industries. Technology companies face even more challenges than most. These issues range from long and often complicated sales cycles to the the sheer amount of competition in many tech markets. As you start the process of creating your marketing plan, it's critical to define the core initiatives you'll utilize throughout the year – otherwise known as a marketing toolkit. In a world of never ending marketing options, how do you choose? PPC or email? Blogging or social media? I thought you would never ask. Alright Padawans, here's my list for the top 4 musts for your technology marketing toolbox… with a decent helping of cheesy Star Wars jokes on the side.
1. Using the Force to Make Smart Social Media Decisions
And by the force, of course I mean data from a reliable source. If your company is starting fresh with social media or you've struggled to maintain a social presence in the past, LinkedIn is probably going to be your most successful channel. 95% of technology marketers distribute content to LinkedIn and it boasts an effectiveness rating of 72%.
On average, technology marketers use 6 social media networks, yet many tech marketers report low effectiveness ratings. This speaks to just how difficult it can be to determine the right social marketing mix. If you're uncertain which channels are right for your business, start with LinkedIn & Twitter and work your way into other networks.

Luckily you don't have to search the web for the best LinkedIn Tips. PMG has a number of great resources to help build your LinkedIn acumen including…

CMI's study found that 95% of tech marketers use LinkedIn to share content. That means that your competitors are likely using LinkedIn, as well. How can you stand out among the crowd? Creating new and unique content is the best way to differentiate yourself from your competition (and maybe allocating a little budget towards advertising, as well). It's helpful to review well-managed profiles as you're brainstorming for your own social presence. Below I've complied 4 great examples of tech companies on LinkedIn.
Adobe: Adobe boasts an impressive 550,323 followers and publishes content multiple times per day. They do a great job of posting a variety of resources, from white papers to examples of work created in Adobe's software suite.
Google: It's almost unfair to put Google on this list with any other company. But with 4,088,939 followers, it's no doubt a great example of a well-managed social profile. Everything from their cover photo to their content images are eye catching.
Amazon: If there's any tech company that could compete with Google's name recognition, it would be Amazon. Their LinkedIn following may be behind Google but at 1,567,169 followers it's still formidable. Amazon does a great job of balancing job postings and promotional content; after all, LinkedIn is used as a recruiting tool, too!
HubSpot: I can't help but mention HubSpot at least once in my blog posts! If there's any tech company truly harnessing the power of content marketing, it's HubSpot. Their LinkedIn is not only a great place for tips, but it's also a good resource for inspiration.
2. Even the Best Jedi Attends Events at the Local Cantina
Alright, silly jokes aside, event marketing and webinars should be included in your plan. In-person events are a great way to engage with prospects and show the human (versus droid) side of your business. 75% of technology marketers have found in-person events to be an effective tactic, and there's a variety of ways you can promote events in your marketing. From blogging to social media, as you're announcing these events make sure you're creating content that provides natural opportunities to incorporate CTAs to relevant offers. Moreover, writing blogs inspired by upcoming events is a great way to include event promotion without being overly "sales-y".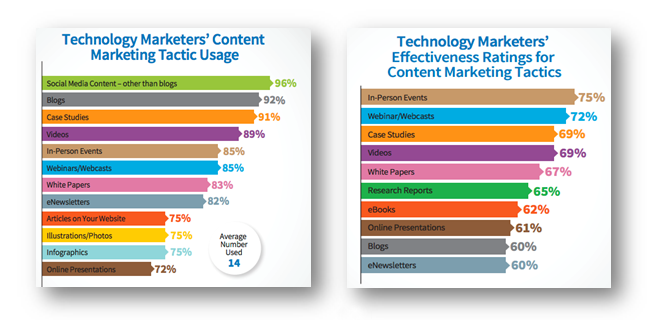 Events and webinars provide ample opportunity for the creation of great content. Tips for marketing your events could constitute another entire blog post. A typical event campaign should include multiple pre-event email promotion, a landing/registration page, thank you page, social media content, and post-event follow up communication. What's more, make it easy for your registrants to add the event to their calendars! Adding additional resources like related blogs and gated lead generation content is a great way to keep prospects interested long after the event has ended.
3. Use Case Studies, You Will
Straight from the mouth of Yoda! 72% of technology marketers found case studies to be effective. Are you seeing a trend? Technology marketers are having the most success with marketing initiatives that directly contribute to relationship building. Case Studies are the social proof needed to validate your product and its value in the market. Many websites are using case studies and quotes from clients in creative ways throughout their sites.
AdRoll, for example, uses a scrolling client list with links to client testimonials and statistics. Each one of their case studies is unique and provides different levels of information. Some include video testimonials while others offer downloadable PDFs.
Don't be intimated by the thought of writing a long case study filled with stats. Most sites are opting for shorter case studies combined with sleek design to match many web user's preferences. Fitbit's website is another example of a modern case study design. You can find reviews and press information by scrolling through an animated webpage. You're then directed to another page with all of the case studies organized in a way that's easy to digest. Highlighting the company's logos and promoting a positive quote is a great way to utilize the feedback you're receiving from clients or users of your product without going through the time-consuming process of writing an in-depth study.
4. These Are Not the Leads You're Looking for...
That was by far the nerdiest of all of the headers and probably the most confusing. What am I referencing with my Obi-Wan Kenobi quote? The strategy for qualifying leads, of course! 90% of content marketers said that lead generation is an important goal for the next 12 months. Sales lead quality is also the most important metric that technology marketers use to measure success. If you're trying to get buy-in from upper management on marketing initiatives, providing qualified leads is going to be one of the most effective metrics you can use to build your case.
Generating leads and determining the quality of leads are, of course, two different activities. Having a cohesive sales and marketing strategy is going to be an essential element that determines your success in both areas. Take some time to set up a meeting with your sales team to answer questions like the ones below. Use this meeting to help find areas of weakness in the sales process and to determine how you as a marketer can set realistic goals.
How do you define a MQL?
How to you define a SQL?
Do you have a documented sales process?
Do you have a documented list of questions that you ask during the first conversation with a prospect?
How many conversations do you need to have to sign a new client?
How many proposals do you have to deliver to get a new client?
What is your close rate?
Marketing and sales should work together to determine what characteristics makes a lead worth engaging with and then determine different ways to attract more of that type of client. In HubSpot-speak, we call this alignment "Smarketing". No matter how cheesy the terminology, opening the lines of communication between your marketing and sales departments is the only way to holistically improve the quality of your leads. Neither department can function in a silo. You have to work together to come up with new ways to engage with your target audience. And once you've got those leads, marketing and sales can better distinguish the good leads from the bad.
All Good Things Must Come to an End, Even Star Wars Movies
Defining your content marketing strategy is the only way you'll be able to accurately measure your successes and failures. Only 45% of technology marketers feel as if they have clarity on what a successful content marketing program looks like. Taking the time to put together a marketing toolkit will help your company stand out among the rest. If you're still struggling to piece together your marketing plan, reach out to us to learn more!
We've created a number of helpful resources to help you through the planning process. In honor of my earlier Adobe reference, I'll now leave you with the king of corny Star Wars jokes….
Q: Which program does a Jedi use to open PDF files?
A: Adobe Wan Kenobi
– Readers Digest