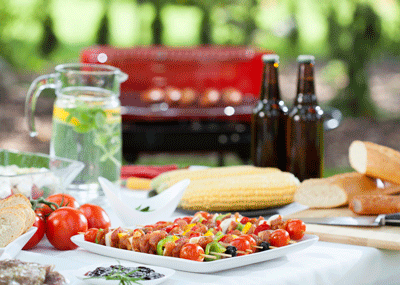 School's out, the graduation ceremonies are over, and your elusive ol' pal Spring Cleaning finally managed to make his way over to your house for a weekend visit. Not to mention you've just returned from traveling all over the place to witness about half of your friends and relatives get married over the past few weeks. The crazy, busy life you lead seems to finally be winding down, if only for a couple months (you know, before the other half gets hitched in the fall).
You're so ready for a well-deserved break, and you might have even opened up the pool! At last, it feels like summer, doesn't it? And you know what that means… it's time for SUMMER BARBECUES.
Sure, your best friend might have already thrown a Memorial Day extravaganza to end all other extravaganzas. But that doesn't count! (Or at least for the sake of this article, it doesn't.) We're talking about firing up the grill with all your favorite summer ingredients – and then firing up your blog posts in EXACTLY the same way. In fact, 9 out of 10 inbound marketing specialists agree that B2B business blogging and barbecuing are, indeed, bound together by natural laws. It's science. Tweet this stat! ;-) So right here… right now… we're throwing a blogbecue (oh yes, this metaphor is going full throttle).
According to the 2015 B2B Content Marketing: Benchmarks, Budgets and Trends Report, 80% of B2B firms surveyed deployed blogging as a content marketing tactic (up from 76% in 2014). Blogging won't be taking a hiatus anytime soon, so if you haven't joined the partay already, it's high time you showed up. Need help cooking up content? Start by revving up your B2B BBQ with these 8 fixings for writing a blog post that will not disappoint…