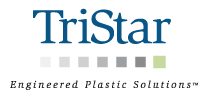 It's not always easy casting a "boring" B2B business in an exciting and interesting light, even while marketing to people working in that respective niche industry. With that said, our PMG team relishes the opportunity to help businesses with lengthy, challenging sales cycles attract relevant traffic – and convert prospects into qualified leads. Industrial manufacturing firm and long-time HubSpot customer TriStar Plastics Corporation was no exception.
Our client TriStar designs, manufactures, and custom fabricates plastic bearing materials for 70+ industries in a wide range of applications. The company is passionate about educating manufacturers about the significant cost and design advantages of plastic bearing materials vs. more common metal bearings. Yet despite proven data, many engineers remain unaware that plastic bearings last longer, require less maintenance, and deliver a higher ROI than metal bearings.
Harkening back to 2007, TriStar's management was in the market for an outsourced partner who could help them better leverage analytics tools, rake in the A-list leads, and take marketing responsibilities off their plate so they could concentrate on the business. And believe it or not, entrepreneur and TriStar CEO Richard Cedrone was the man who initially introduced us to HubSpot's marketing automation software.
Eight years later, we are a HubSpot Platinum Partner, still proudly providing results-driven content marketing strategy and execution for TriStar – and we aren't slowing down any time soon!