When you're looking at data in your HubSpot portal on a weekly or monthly basis, it's easy to focus on the king of all reports, the Sources Report. Of course, it's fun to see those traffic and conversion numbers rising, to learn which parts of your marketing efforts are paying off, to drill down and see how particular keywords are doing... it's truly the centerpiece of HubSpot analytics.
But hanging around in other parts of your portal are lesser known bits of data that can really help improve your marketing efforts. Call-to-Action buttons (CTAs) are relatively unassuming, sometimes an afterthought ("oh we need a CTA for that"), and often set up and forgotten. Today we are going to give these little guys their time in the spotlight!
(First, to really understand the full story behind the CTA analytics, you should start by understanding your landing page numbers and what they mean. This post is third in a series of posts we've dedicated to HubSpot analytics.)
Views to Clicks
Let's start with the basics – the number of views your CTA had compared to the number of clicks.
This screen capture shows us three CTAs sorted by the number of views (this is for a three-month time period). You can see that the number of views for each CTA are relatively close, but notice that the view-to-click percentage and the raw number of clicks. The third CTA – for the Kitchen Lighting Guide – is outperforming all three CTAs and is significantly outperforming the most viewed CTA, as well. So what can we learn from this?
First take a look at where the CTA has been used. Just in case you are not familiar with how to do this, to the left of the CTA name you can see how many pages, emails, and blog posts the CTA lives on. You can click on these to see the specific names of the pages, emails or blog posts. Looking at the data above, we can see that the Lighting Consultation Banner is used in many more places than the Kitchen Lighting Guide. So it makes sense that its views are higher. But that still leaves us with low clicks...
So next check the location on the page. Do you have your CTA positioned at the bottom of a page that receives a lot of traffic? See what happens when you move it up towards the top. Views are really showing the "potential" number of times it could be seen, but if no one ever scrolls to the bottom then you're missing a golden opportunity.
Once you've resolved number of pages and the placement on page, the next item to consider is the look of the CTA. Is there something dramatically different in the design or wording of the CTA that has higher clicks? If so, consider A/B testing (more on that in a moment).
Clicks to Submissions
Now let's look at the same chart but ask a different question: For those CTAs getting clicks, how is their performance when it comes to submissions? This is not always the case, but in our example, the CTA that is performing better from a view-to-click perspective is also performing better from a click-to-submission perspective. There really aren't any industry standards for what your CTA's submission rate should be, so you will need to compare CTAs against one another and see which are performing better to learn why. Here are a few attributes to look at:
This one may seem obvious, but make sure that the page to which the CTA leads someone is a page that houses a form. Sometimes people use CTAs to draw attention, for example, to a pricing page because they know that once people see pricing, they will usually take the next step and sign up for a free trial. If the pricing page has no conversion form than it makes sense that the submission percent and rate would be zero. But once you have ruled that out…
Take a look at the CTA copy, and compare it to the landing page copy. Is there a message match between what the CTA promised and what the landing page delivered? Message mismatch is often a reason for low submissions on highly clicked CTAs.
If that does not seem to be a problem, now you need to analyze your landing page performance. At this point the CTA has done its job. It drove people to a page where they can take action. If no action is taken and it's not the CTAs "fault," then there is a problem on the landing page. Read our article Why We Love HubSpot Analytics (Part 2) – HubSpot Landing Pages for some ideas.
Simple right? CTA analytics are pretty straightforward. Here is a quick summary of what to ask yourself, and then we will take a look at some additional CTA tips!
Are high performing CTAs getting enough visibility (views) on your site and in your marketing?


Is the copy in the Call-to-Action button compelling? Is it really a call for someone to take action?


Is the design distracting from the message?


Is the CTA placed high enough on a page (or in an email) for people to see it and click on it?


For CTAs with low submission rates, is there a message and design match between the CTA and the landing page?
Getting a bit fancy! A/B Testing
Automated A/B testing of CTAs is only available to HubSpot Enterprise customers or very long-time customers that had some features grandfathered into their contract. If you don't have A/B testing in your portal, stay tuned for a work-around on how to run a test without it!
Keep in mind that the same data applies in A/B testing – views to clicks and clicks to submissions. But now you get to compare the performance of 2 CTAs trying to do the same job.
Variation 1:

Variation 2: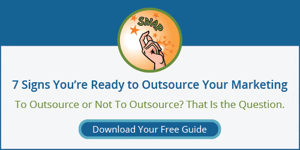 Notice that in this test, we are only testing one item – the difference between using the word White Paper versus the word Guide. Each CTA has relatively similar views (we are looking at a short time period) but there is a dramatic difference in performance – clicks and submissions. Once you have a critical mass of views (based on your site traffic), if this data continues then you can make the call that Variation 1 is the winner and end the A/B test.
But I don't have HubSpot Enterprise...
Not to worry. You can still run an A/B test... just consecutively instead of concurrently. Pick a time period – for example a month and run Variation 1 for one month and then Variation 2 for one month. Make sure you pick months that are relatively equal in traffic volume to do the best test. An alternative is to run the CTAs at the same time on different pages. The challenge with this is you are now adding multiple variables which can impact results.
What's a marketer to do?
It's easy for your Calls-to-Action to remain as an afterthought, but if you think about the role they play in your marketing, it is important that you are paying attention to them. These little buttons have the power to move people through to the most important information on your site. Make sure you are using them and that you are giving some consideration to the story the numbers are telling.