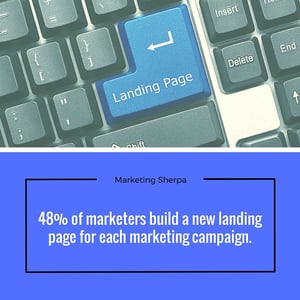 Our first love letter dedicated to HubSpot analytics was all about the HubSpot Sources Report. Today we're extending the love fest to the platform's landing page analytics!
Right up front, I'll let you know that although the data captured in the HubSpot Landing Pages tool is powerful by itself, you can really get a much more in-depth view of your site's performance if you take into account Calls-to-Action and sprinkle in a little Google Analytics data (yes, I know this is a HubSpot post – but I can share the love!) That being said, this article will be focusing on how to evaluate landing page performance based on HubSpot's analytics only (stay tuned for other articles on interpreting Google and Calls-to-Action data!)
So what's a landing page?
Maybe in this day and age where the reach of the inbound marketing methodology has spread far and wide, we don't need to discuss this… but let's take a second to succinctly define a "landing page." Technically speaking, a landing page is any page someone can "land on" as the first point of contact on your website. However, in this context we are defining a landing page as a point of conversion – a page with a form that encourages a visitor to engage with you and give up contact information in exchange for something else. So for the purpose of this post, a landing page is used to convert a website visitor into a contact.
Now let's talk conversion rates…
Since conversions are the most valuable item we marketers can deliver to our partners in Sales, it's important that you constantly pay attention to the performance of your landing pages. For starters, your baseline expectation of your landing page visit-to-contact conversion rate should be at least 20%.
However, there may be a few exceptions to this standard rate. Your website's Contact Us page, for example, serves multiple purposes – it gives people your contact information and it can also serve as a lead generation / conversion page. You may get a lot of visitors to this page looking for a phone number or address, but you'll likely only attract a small number that are so far down the funnel that they want to buy something (most people will convert on more specific pages). So if you find that your Contact Us conversion percentage is rather low, especially relative to other landing pages, don't worry too much. As with all analytics, you need to consider the context of the page before making decisions.
Digging into HubSpot
To access this performance data within the HubSpot tool, you'll want click on the Content tab, and then select Landing Pages from the drop-down menu. Then choose the Analyze tab – the view will appear similar to what's below.
First, sort the information by Submissions (raw numbers, not percentages) and then check the conversion rate to confirm each page is achieving a minimum of 20%. Okay, so maybe it wasn't fair that I picked a chart that's so awesome, but I wanted you to know what the data should look like when all is working well!
Note: The reason why you want to sort by Submissions first, as opposed to the rate, is because you may have a page with a high conversion rate but very few views and submissions, rendering the data a little skewed. You could sort by Views for the same reason – but again, be sure to take context into account if you decide to do this. The page with the most views could very easily be that Contact Us page!
When you have landing pages performing at the level above, you need to shift the expectations of ALL your landing pages. No longer should you settle for 20%. What can you learn from your top performing pages? Is there a consistent format for the:
Image placement
Form length
Text style (length, paragraphs versus bullets, headlines and sub-headlines, etc.)
Try to find commonalities in your best converters, and then compare the pages performing below 30% and make adjustments accordingly.

For landing pages with a high number of views, but a low number of submissions:
But what about when we have a collection of pages that are not performing, like in the example that follows…
This is where data meets analysis. Every page is performing below our established threshold, so now you need to ask yourself:
Are there pages where this might be acceptable? For this example, yes, it's acceptable for the Contact Us page and the ERP Webinar page since registration has been closed. But it's a solid "no" for the others.
Next, pinpoint the page receiving the most traffic but the lowest number of conversions. In this case, we can see that it's ERP and Enterprise Application Support. Now it's important to determine:
What source is driving traffic to this page? Is it social media, organic, paid search, a CTA on the site, referrals, email, etc.? Understand clearly why this page has so much traffic.
Then take a look at what's referred to as the message match. Does the copy and overall message of the traffic source (and there may be more than one source you're comparing) align with the message on the landing page? This could be one potential problem area. If the initial Call-to-Action or text redirecting you to the landing page appears misleading, or lacks congruency with the LP, then your visitors are likely to bounce away.
Now look at the visual and verbal quality of the page. Is it unappealing? Is there too much text? Is the headline boring or vague? Are there any spelling or grammar mistakes? Does the page visually show what a person will receive when they fill out the form? Is the content benefit oriented?
Next, look at the form. Is the amount of information you're asking for on the form equivalent to the value of the offer? For example, when you are offering a white paper, information someone can typically get anywhere on the web for "free", you need to ask for less information than when you're offering a "free" assessment where the prospect will get a great deal of value.
When we worked with this client and dug in to the performance of this page, we learned:
The largest source of traffic was Paid Search.
There was no form on the page to track conversions; only Calls-to-Action that drove visitors to another page on which they could convert.
No wonder the numbers were low!

For landing pages with a very low number of views, but a strong conversion rate:
Now, what if you encounter the following situation? This landing page has a great conversion rate but the number of views (and therefore, raw conversions) is still small.
In this case, you want to look at how you are driving traffic to this page. Are you letting it linger with the hope people will find it? Here are some remedies for this problem…
Create a Call-to-Action button that leads to this landing page and position it throughout your website.
Write and publish social posts with links to the page.
Add links in your website and in a relevant higher-traffic blog post's text.
Mention the offer on the landing page in your next newsletter (and again, provide the link).
Your goal is to get more people to this page since you know it's been successfully converting visits into potential leads once these prospects arrive there!
What else can you learn?
So far we have been looking at how landing pages are performing from a visit-to-contact conversion perspective, but did you know HubSpot's analytics will also show you the breakdown of the number of new contacts that converted on a particular landing page? AND the number of people that became a customer that originally converted on that page?
While you are in the Landing Pages tool (once again, working within the Analyze tab), you can toggle between…
Submissions: This is what we have been looking at in the previous examples.
New Contacts: It's great to have strong submissions on a page, but if all your efforts ever yield is existing contacts converting over and over again, you are not going to grow your database. Take a look at these numbers and make sure that your landing pages are getting visibility in your marketing and social activities so you draw new people to your site. We have not found a standard new contact conversion rate that we can apply across all customers. Look at your numbers and determine an average rate and then use that benchmark when evaluating each page. If you do not have a strong new contact rate, it's time to make some plans to publicize this landing page across social media channels, appropriate LinkedIn groups in which you're engaged in conversations, etc.
Customers: This data should be used to help you understand if there are landing pages that most effectively lead to creating new customers. For example, if 50% of your customers filled out a form on the Request a Quote page, then you will want to look at the prominence of that page and create a path that leads more people to it. For example, when someone converts on one of your white paper landing pages, you may want your lead nurturing follow-up emails to drive people to request a quote since you know that half of the people who submit information on that page later turn into customers.
So take some time to "get to know" your HubSpot landing pages using HubSpot analytics, and the story this information tells you. If you apply the right changes to your website content based on these insights, you'll be watching your conversion rates soar in no time!