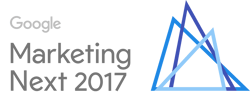 Every year, Google announces their latest updates in digital marketing at their annual Google Marketing Next conference. This year's event focused on making marketers more effective and efficient by applying machine learning to the ever-evolving modern buyer's journey and all of its micro-moments.
Here's an overview of the updates and how they can help you reach your prospects at the right place and the right time.
Google's Getting Personal
Do you ever feel like the internet actually knows you? You're onto something. Google is getting better and better at understanding a searcher's intent, context and identity. This means that even if you and another person type the same keywords into Google's search engine, you will both receive different results customized to meet your perceived needs.
How does Google do this? It gathers everything it knows about you from YouTube, Google Maps, Gmail, etc. in combination with previous search behaviors to better understand your intent and interests. It even segments you by your Consumer Patterns and Life Events like graduating, moving and marriage!
So, this begs the question: how does this help your business?
For starters, you can now reach more qualified audiences across channels and devices to better align your paid ads to your buyer's journey. One AdWords example that shows how Google is helping deliver more sales-ready leads is through In-Market Audiences. Google qualifies users by taking into account their recent research habits, targets those who are most likely ready to buy your product or service, and presents your ads to them. This new feature boasts a 10% increase in conversion rates!
Another example is Google Optimize, which allows you to easily create customized versions of your ad landing pages for different audiences. Not only are you targeting more qualified prospects, Google is making it easier for you to attract them with tailored content—no scary coding required.
If You're Not Fast, You're Last
By now you probably have heard that the loading time of your web pages is an important piece of Google's algorithms. At the 2017 conference, Google made it crystal clear that page load time is crucial—so crucial that for every second delay in mobile page load, conversions fall by up to 20%. To help you speed things up, they developed the Accelerated Mobile Pages (AMP) Project, an open-source tool that helps make web pages crazy fast—helping you convert more of your precious site visitors.
Work Smarter, Not Harder
Google has optimized DoubleClick Bid Manager to utilize machine learning. This means that when you provide your estimated budget, length of campaign, target audience, and marketing objective, Google will automatically analyze your past campaigns to recommend the right inventory, audiences, and budget based on what has performed well historically.
Interested in seeing if your ads are resonating with your audience? You can now survey them with Google Surveys 360. The results will help you learn more about your audience's purchasing intent and referred messaging.
Give Credit Where It's Due
Google's taking on the modern attribution problem. When you take into consideration that ads are all over the place and that 30% of people use five or more devices (I bet you use at least two), you'll see why this is important. Google Attribution (in beta) aims to help you measure the impact of each of your marketing touchpoints across multiple channels and devices. Instead of just crediting the final ad that made the purchase, you can see the attribution from start to finish—calculating how much credit each search ad, display ad, organic search, email, affiliate, direct visit, and social touchpoint deserves across devices.
Since Google recognizes that people are probably seeing the same ads across multiple channels and devices, they created Unique Reach Reporting to help you pinpoint wasted money. It makes it easier to see unique users and unique average impressions.
People Speaking to Inanimate Objects
Did you know that 20% of searches on the Google Search App on Android are by voice? With the appearance of voice assistants like Amazon's Alexa and Google Assistant, those numbers will only increase. But how does this affect you?
Take note of how people talk to their devices. Is it different than how they type into a search engine? Google is interpreting this behavior as more personal. People are having conversations with their devices. Make sure that your content is optimized to be responsive to this growing trend – for example, by publishing more Q&A posts, creating pages that define common industry problems and concepts, providing a glossary of important terms or including more how-to's on your website (pieces from which Google can easily snag snippets of valuable info).
And if you have actual inventory data, integrate it with Google so that when someone asks their Google Assistant for your products, you'll be connected immediately.

Personally, I'm ecstatic about these updates. As a digital marketer, I'll be able to more easily and effectively reach consumers with content and ads at the opportune moment. Best of all, it'll be on their terms and I'll be able to measure it.
As a consumer, I'll be seeing less repetitive and irrelevant ads. If I want to buy something, I'll be able to get it faster through search, customized ads, or talking to my voice assistant. And if I don't want Google to share my information, I can adjust that in my privacy settings. Looks like a win-win to me.
Want the full hour-long presentation? Hit play below:


Have any thoughts on the changes announced at Google Marketing Next 2017? Let us know in the comments below!