DocuWare. You may have heard about them from organizations like Gartner and Capterra as being the best document management and workflow automation solution for organizations of any size. The software is streamlined, easy to use, quick to implement, and available in 16 different languages. With over 18,000 customers and 500,000 users across 70 countries, this company has been able to grow their international partner network to more than 600 resellers!
But you wouldn't have known all of that by visiting their website back in April of 2017. Why? Because there was a serious mismatch between the cutting-edge technology and sophistication that the DocuWare solution offers and what visitors experienced upon entering the site. This PMG client needed a fresh digital makeover that not only looked modern and facilitated better engagement but also enabled prospects and customers from all over the world to easily navigate the site and find exactly what they are looking for. Plus, they ultimately needed to incorporate their new branding.
Challenge accepted! After we helped this B2B software company tackle this incredibly intricate website redesign project using many HubSpot features, we're proud to say DocuWare now boasts a multilingual, accelerated sales generating machine. Read on to learn about the redesign journey, as well as the great results DocuWare has achieved since!
DocuWare Came to Us with a Complex Website Redesign Challenge
When DocuWare approached our team at Precision Marketing Group for marketing help, they came to us with a website that looked like this:
With unreliable responsiveness, bulky and counter-intuitive website modules, and numerous pages housing content about the same topic, visitors were aimlessly bouncing from page to page before ultimately leaving the site, having taken little to no action.
Behind the scenes, DocuWare's main website and all of its language variations were hosted on Drupal, an open source CMS. The primary site pages were managed in Europe by the company's IT department, while landing pages and blogs were hosted on HubSpot's COS and managed in the U.S. by Marketing. Unfortunately, this disconnect between technology systems posed a barrier to making swift, strategic adjustments that could benefit the site as a whole.
And that's not all: within the HubSpot Design Manager, there were hundreds of templates and module clones, some with mismatched languages. Consequently, creating a landing page that met brand standards was nearly impossible. The DocuWare team was spending valuable time digging around for content instead of promoting it.
Creating a Solution Using HubSpot to Its Fullest Capacity
After conducting a thorough content audit and carefully planning out a strategy, we outlined how HubSpot would empower DocuWare to:
Integrate and analyze full-funnel web and email interactions by attracting, converting, and nurturing new leads through one central platform.
Manage and grow their multilingual site in an SEO- and user-friendly way.
Edit web and email pages and templates with drag-and-drop functionality.
Automate their web, social, and email processes.
Ensure site content met brand standards regardless of language.
Stay on top of new web, SEO, and marketing trends with HubSpot's commitment to best-practice functionality.
Get the global team on the same page (literally).
Kevin Potts, DocuWare's new CMO knew that it was time to go all in with HubSpot to launch a website that elevated the DocuWare brand, clarified their messaging and value propositions, and provided an organized cornerstone for all sales and marketing activity.
And as you can see below...
The First Iteration of the Website Redesign Was Born!

The goal of the first iteration of the website was to completely overhaul DocuWare's site architecture. That included restructuring the back-end setup while giving DocuWare their much-needed face lift for an improved user experience. Working closely with Kevin and his team, we dove into a three-phase redesign project that followed this timeline:
First, we built the English site in HubSpot's COS from scratch, ensuring each new template and module followed a standardized naming convention and folder usage structure in the Design Manager.
Then, using HubSpot's Multi-Language Translation feature, we easily built German, French, and Spanish versions of each migrated page – here's a peek into this process!
Next, we completely restructured their blogs – all 8 of them. Using the Tag Consolidation tool, we reduced the amount of international blog tags from 75+ English tags to 10. Then, we optimized the blogs for content strategy best practices by removing cruft content, re-tagging posts, and optimizing their top performing articles for search. In addition, enticing Lead Flows were created to capture new subscribers and promote relevant content throughout the blog.
Then, we optimized their newly-designed Landing Pages by using the On-Page SEO review feature.
A short six months later, DocuWare's new website was launched. Since the redesign, we've loved watching their engagement trends increase steadily month after month.
But our work wasn't finished.
In February of 2018, we received word from DocuWare's CMO that our client would be going through yet another upgrade—a global rebrand, complete with a new logo, colors, imagery, typography, and messaging.
The Grand Finale
With solid website bones already in place, we were poised to reskin the site. Because it now leveraged streamlined global modules and a singular CSS, we were all in awe of how quickly we were able to execute the rebrand across the entire international site.
How incredible to replace the logo in Settings and see it update across hundreds of pages and emails! No cloning required.
In March of 2018, the rebrand went live for the world to see.
Now for the Results...
We've recorded an increase in website visits across the board. Thanks to the improved UX in desktop and mobile, targeted messaging, and ability to act on what we see in analytics, results include:

Organic traffic to the site has increased by 140% since May 2017.
May 2017: 6,297 visits from organic search
May 2018: 15,109 visits from organic search

Unique visits have increased by 77%.
May 2017: 16,792 unique visits
May 2018: 29,742 unique visits

Page views have seen a 39% increase.
May 2017: 163,929 page views
May 2018: 227,378 page views

And what's more, Landing Page and Blog Traffic have also increased. While these were previously hosted on HubSpot, their new design and infrastructure have led to a 67% increase in total traffic and a 63% increase in organic traffic.
Total
May 2017: 25,810 visits
May 2018: 43,111 visits
Organic
May 2017: 3243 visits
May 2018: 5279 visits

Blog Traffic is up by 56.6% from the time the project started, and their list of new subscribers has increased by 30.6%.
And the Impact on the Business?
With a complete migration, redesign, and rebrand, any business would be nervous about seeing a drop in traffic. We are confident that the ability to optimize, standardize, and promote pages within HubSpot has contributed to the positive results we are seeing with DocuWare.
But all of this means nothing if it didn't affect the real measure of success: lead generation and an impact on the bottom line. That's why we were ecstatic to get this feedback from Kevin, DocuWare's CMO: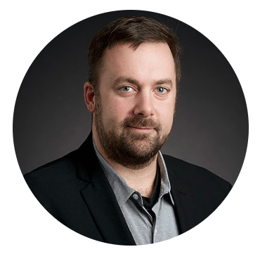 "Since the website redesign last year, our monthly MQL production is up about 350% year-over-year. And we have a very strict MQL definition, so this is not insignificant. The website is a major contributor to those totals. PMG was both helpful and proactive in solving our website challenge. They helped us overcome some early reservations with HubSpot, which I am thankful for, because their guidance and technical implementation have resulted in a website that performs well for our company. They have risen to every technical challenge we've thrown at them, and we are grateful for their expertise and skills."


When asked about the website's contribution to the bottom line, Kevin's response was to point to the numbers published in DocuWare's recent annual report and mid-year press release. These documents highlight the addition of 1,783 new customers (which equates to growth by 44%), as well as a 15% increase in revenue during the first half of 2018. He is confident that the new website was a contributing factor to this success.

At the end of the day, it's results that impact the business overall that count. So we're proud of not only the visually appealing and streamlined website redesign we completed for DocuWare, but that it's also helped the business grow. We appreciate Kevin's kind words, and our team looks forward to continuing to contribute to our client's success in the months to come!
If you have any questions about this customer story, or you'd simply like to learn more about our website design and HubSpot implementation & management services, feel free to contact us anytime. We're ready to help!